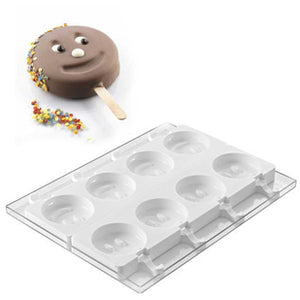 Make your own ice cream at home on a stick with this kit, which comes with a clear plastic tray 15-1/2 inch x 11-1/2 inch x 1/2 inch high.
The silicone mold is higher, at 1 inch, and is made of two halves, each with 4 smiley ice-cream-portion cavities, each of them measuring 3-1/4 inch diameter x 1 inch high.
Volume of each cavity 3.4 oz.
Silicone temperature resistance -76F to 446F. Plastic tray resistant to cold down to -40F.
Each cavity has a slot through which to slip a wooden stick (50 included, each one measuring 3/8 inch x 4-3/8 inch).