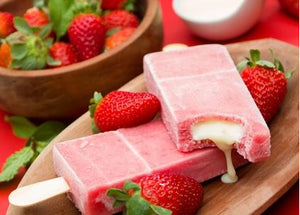 ICE CREAM POPSICLES
Customize-Made Especially For Your Special Event
For parties or special events, what better dessert option than having each guest get a taste an incredible tasting popsicles, using one of our flavors, or creating your own? These tasty treats are made just for you at ICE CREAM UNIVERSITY.
Even better, now is your chance to widen your menu in your ice cream shop for products customers want, and if they like what they purchase, it means that they come back again and again for more. Developing this take-home option for your business can be the difference between your overall success in this business, or failure, especially in the cold winter months. 
For many of us, either in or out of the ice cream business, popsicles hold a dear place in our hearts, evoking the summer days of childhood spent outdoors, listening for the distinctive melody of the ice cream truck and celebrating its arrival. The heat of the summer would be alleviated with a sweet, frozen treat on a stick, whether fruity and colorful, or creamy and chocolatey. On the strength of this memory – of popsicles gone by – the frozen treat is finding its way in an updated and dressed-up version. Premium popsicles are all the rage right now.
Contact us -Mstogo79@gmail.com, or call 973-669-1060 for more information, or scroll down to purchase now.
CUSTOMIZED POPSICLES TO SUIT EVERY OCCASION
Popsicle Catering-  Weddings, Bar Mitzvah
Opening Day Parties
Marketing Events, Campaign Give Aways, Promotional Events, Hotels, Resorts and More!
All Vegan (Dairy-Free), Allergen-Friendly, Organic Popsicles 
Kid Friendly and Gourmet Popsicle Flavors (We've Made it All)
Premium Alcoholic and Alcohol Infused Popsicles
Custom Popsicle Recipes and Flavors
Branded Popsicle Packaging With your Company Logo
Branded Popsicle Sticks With your Company Logo
Nationwide Shipping for Large Orders
PRICING- 3 OZ EACH
24 POPSICLES- $5.99 each plus shipping, personalized labels each popsicle- add .25 cents each 
48 POPSICLES- $5.25 each plus shipping, personalized labels each popsicle- add .25 cents each
120 POPSICLES- $4.25 each plus shipping, personalized labels each popsicle- add .25 cents each
Large or custom-size orders, please call 973-669-1060 for pricing
CHOCOLATE COVERED CLASSIC ICE CREAM FLAVOR LINE
Deep Chocolate: 65% Venezuelan cacao
Espresso: Deep and smooth from our own coffee blend
Salted Caramel Pecan: Classic New Orleans salted praline
Best Macaroni and Cheese
Cookie Monster: Oreo and chocolate chip cookies, with a swirl of fudge
PLANT BASED DAIRY FREE ICE CREAM 
All of our plant based flavors made with our proprietary coconut base
Pomegranate:  100% pomegranate juice, with an added touch of Goje Berry and Raspberry
Pure Vanilla: It is the benchmark of who we are. Our plant based ice cream flavor.
Fresh Strawberry: It's like eating a bowl of fresh strawberries.
Deep Chocolate: 65% Venezuelan cacao
Acai: The healthiest superfruit
Nutella: Chocolate and hazelnut, very delicious
Key Lime Pie: Tastes just like the pie
Mango: We only use Alphonso mango from India 
ASIAN ICE CREAM FLAVOR LINE
All of our ice creams are made with our proprietary 16% Butterfat Recipe. 
Thai Tea: Mellow black tea flavor
Green Tea: Using the best matcha you can buy
Coconut Mango: The combination delivers a very fresh tropical taste
Ube Macupuno: A very traditional Philippine ice cream
LIQUOR INFUSED ICE CREAM FLAVORS 
Using only the highest quality liquor, wine and liquors 
Bananas Foster:  A Southern  favorite bananas caramel and rum
Vanilla Bourbon: It is the benchmark of who we are. Our finest flavor 
Mojito: Fresh mint, lime and white rum
Tequila Sunrise:  Fresh squeezed orange juice with a touch of tequila
Pina Colada: If there was ever a restaurant dessert that was in winner, this is it
Peach Belini: Champagne and fragrant white peach nectar just like the drink
FRESH FRUIT SORBET
Our Sorbet Product Line uses only the freshest organic fruits. You will find no other sorbet like ours. Eating one cup of our sorbet is like eating the fruit itself.
Lemon: Made with 100% fresh squeezed lemon juice
Blackberry : Dark sweet berries and Cabernet
Chocolate: Darkest chocolate sorbet you will ever have
Mango: Made from imported Indian Alphonso mangoes
ITALIAN GELATO
Our Italian Gelato Flavor Line is fantastic! It is made from scratch. Each gelato flavor is very fresh and creamy with a soft texture and an outstanding unique intense flavor profile. 
Vanilla: We use only the finest Madagascar vanilla
Gianduja (Chocolate and Hazelnut): A wonderful combination of chocolate and
Amarena (Wild Cherry): The wild sensuous Amarena cherry is one of our signature flavors
Cacao (Chocolate): Intense chocolate, dark and creamy
Nocciola (Hazelnut): Very much the benchmark of what gelato really is
Caffe (Espresso): Espresso is what it is…Strong coffee with a touch of coffee liquor.
Pistachio: Wonderfully 100% pure pistachio