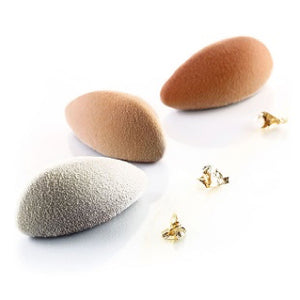 Silikomart Quenelle24 Mold.  
12 cavities, each 1.1 inch x 2.5 inch x 1.1 inch high (29mm x 63mm x 28mm high
Size of mold 6-3/4 inch x 11-9/16 inch (172mm x 294mm)
Sold by the piece
This quenelle (a two-pointed shape with a ridge) appears in Demarle Flexipans, including F1152 - whose cavity size and volume approximate this one's. But the shapes of this quenelle and the Demarle ones are not identical. Note the ridge at the top of the cavity of the Quenelle.24 Thanks to that ridge, the sides of the quenelle food product distend.
Oven safe up to 446F (230C)
Freezer safe down to -76F (-60C)