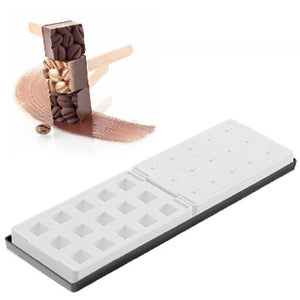 This kit allows you to create mini cube-shaped appetizers and canapèes, cold or cooked.
In the kit are two silicone molds and two silicone lids with slots to keep the sticks in place. Included are 50 wooden sticks 2-3/4 inch x 5/16 inch (70x8mm), as well as a polycarbonate tray.
The two molds have 15 cavities each, for a total of 30 cavities. Each cavity 0.8 inch cubed (20x20x20mm) and 0.3 oz (8 ml). The tray is 4-9/16 inch x 15-7/16 inch x 1/2 inch high (115x392mm x 13mm high).