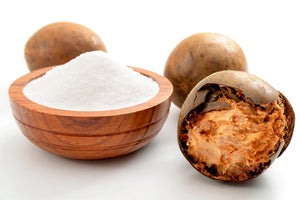 Our ICU LOWSWEET is a sugar alcohol of Monk Fruit and Erythritol and is equally as sweet as sugar with 0 calories per gram. The combination of both creates a sweetening level equal to sugar, with no bitter aftertaste. It is Kosher certified.
INGREDIENT DECLARATION
Monk Fruit and Erythritol
USAGE
It is used as a one-to-one replacement of sugar in the preparation of your product.